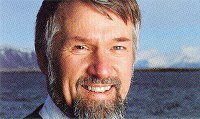 Pétur B. Lúthersson
Member of FHI, Icelandic Federation of Interior Architects (IFI).
I was born in Iceland Sepember 2. 1936. I finished my apprenticeship as cabinetmaker in Iceland
1958. I was educated as furniture designer and interior architect at the School of Arts, Crafts and
Design in Copenhagen, Denmark 1961-1964. I collaborated with architects in Copenhagen and
Reykjavik 1964-1974, mainly on the design of interiors for public buildings as well as furniture.
Those included furnishings for office buildings, banks and homes for elderly people, as well as
some industrial designs.
I have been running an office in Reykjavík since 1974.
Cooperating with Iceland's leading furniture-manufacturers, I have designed office furniture and
various types of chairs for public use. These are the companies included:
GKS H/F
AXIS HUSGÖGN H/F
PENNINN H/F
STÁLIĐAN EHF
In addition, I have developed an extensive range of lighting fixtures mainly spun in aluminium. They have been produced by:
FOG OG MÖRUP A/S in Denmark
MALMSTEYPA AMUNDA H/F in Iceland
During my career I have participated in various competitions, in Denmark as well as in Iceland, and
won number of first and second prizes.
Since 1981, I have also designed furniture for a international companies such as:
LABOFA A/S, Denmark
HEINRICH BRUNE GmbH + Co, Germany
ROSENTHAL EINRICHTUNG, Germany
TONON Spa, Italy
HUTTEN SELECTION NORM bv, Holland
TRACT LTD., Thame, Oxon OX9 3UJ, England
BEAUFURN LLC, USA
I have received the following design awards:
Designer of the Year 1988 in Iceland
Design of the Year 1989 for the chair MOCCA in Iceland
Design Zentrum Nordrhein Westfalen, Essen, Germany, "Auszeichnung für hohe Design
Qualität" 1991
My designs have been featured in following exhibitions:
HUSGÖGN 68 in Reykjavik 1968
FELAGID LISTIDN 1975, 1978 and 1979 in Reykjavik
SCANDINAVIA MODERN DESIGN 1880-1980, in USA 1982
FORM ISLAND 1984 in the Scandinavian capitals
DESIGN FROM SCANDINAVIA, exhibition in Japan 1987-1988
NORDIC FURNITURE DESIGN in Bergen Norway and some Scandinavian cities 1989
FHI DESIGNS, Reykjavik 1992
MUSEUM OF DESIGN AND APPLED ART, REYKJAVÍK 2001
MUSEUM OF DESIGN AND APPLIED ART, REYKJAVÍK 2002
"PÉTUR´S CHAIRS", 40 year career as a designer of chairs